JATI SPE Mould Remover
We have developed JATI SPE Mould Remover – because surfaces don't constitute a reason for mould. The product is based on hydrogen peroxide. Supplemented by the stabilising property of organic fruit acids, this achieves the special overall effect of this equally special mould remover. In contrast to most industrial mould removers, JATI SPE Mould Remover is free of chlorine and other ingredients of concern. The fruit acids used are even utilised in the food industry. Mould, bacteria and spores will therefore not acquire a taste for it. Even if they stick particularly stubbornly to surfaces. They are consistently destroyed in all cases. More benefits with less chemicals – this also works.
Application:
Ready immediately for a quick end.
JATI SPE Mould Remover is ready to use and is applied in a spraying process. JATI SPE Mould Remover can also be used as wipe-down disinfection for smooth surfaces. One litre of JATI SPE Mould Remover is normally sufficient for approx. 10 m². The consumption may increase with large fungal infestations or absorbent surfaces. After that, the final hour has come for the mould because the dead mould can be mechanically removed after a reaction time of 60 minutes. The type of surface has very little impact. Whether used extensively on all kinds of materials or selectively on fixtures, JATI SPE Mould Remover works virtually anywhere:
Wood, masonry, upholstery, wall coverings, silicone, OSB panels, tiles, carpets, permeable wood composite and many more.
Areas of application:
Hard on mould even in sensitive areas.
JATI SPE Mould Remover is versatile to use anywhere. Even sensitive living areas, such as bedrooms or children's rooms, are immediately accessible and habitable again after the treatment. Other areas of application – be it large remediation projects or small applications at home – including, for example:
Living rooms, attics, kitchens, sanitary facilities, hotels & restaurants, hospitals & care facilities, basements (incl. wine cellars), the food processing industry and many more.
Benefits:
The best thing about it is that there is not much in it.
Safety:
No chlorine, hypochlorite, alcohols, aldehydes, quaternary ammonium compounds
No hazardous substances
Non-flammable
Readily biodegradable (in accordance with OECD 301A)
Almost odourless
Non-bleaching
Effect:
Reliable effect within 60 minutes
Kills mould and spores
Also highly effective against bacteria
Prevents new infestations occurring quickly (mould-inhibiting)
Application:
Sparingly (approx. 100 ml / m2)
Quick to apply (3 to 5 minutes / 10 m2)
No follow-up treatments are necessary
Avoids wallpaper and construction waste etc. being disposed of as hazardous waste
Other special features:
JATI SPE Mould Remover has proven to be 100% effective against the bacteria type actinomycetes. In addition, JATI SPE Mould Remover can also be used effectively against coliform bacteria (e.g. Salmonella choleraesuis and Escherichia coli), which may also occur in the case of flood damage.
Registration
JATI SPE Mould Remover is registered and recorded with the Federal Institute for Occupational Safety and Health (BAuA) and the Federal Institute for Risk Assessment (BfR) as a marketable biocidal product in the product categories 2 and 4.
Technical approval
Our products do not require technical approval because they are not regarded as building products. This is also confirmed by the German Institute for Building Technology.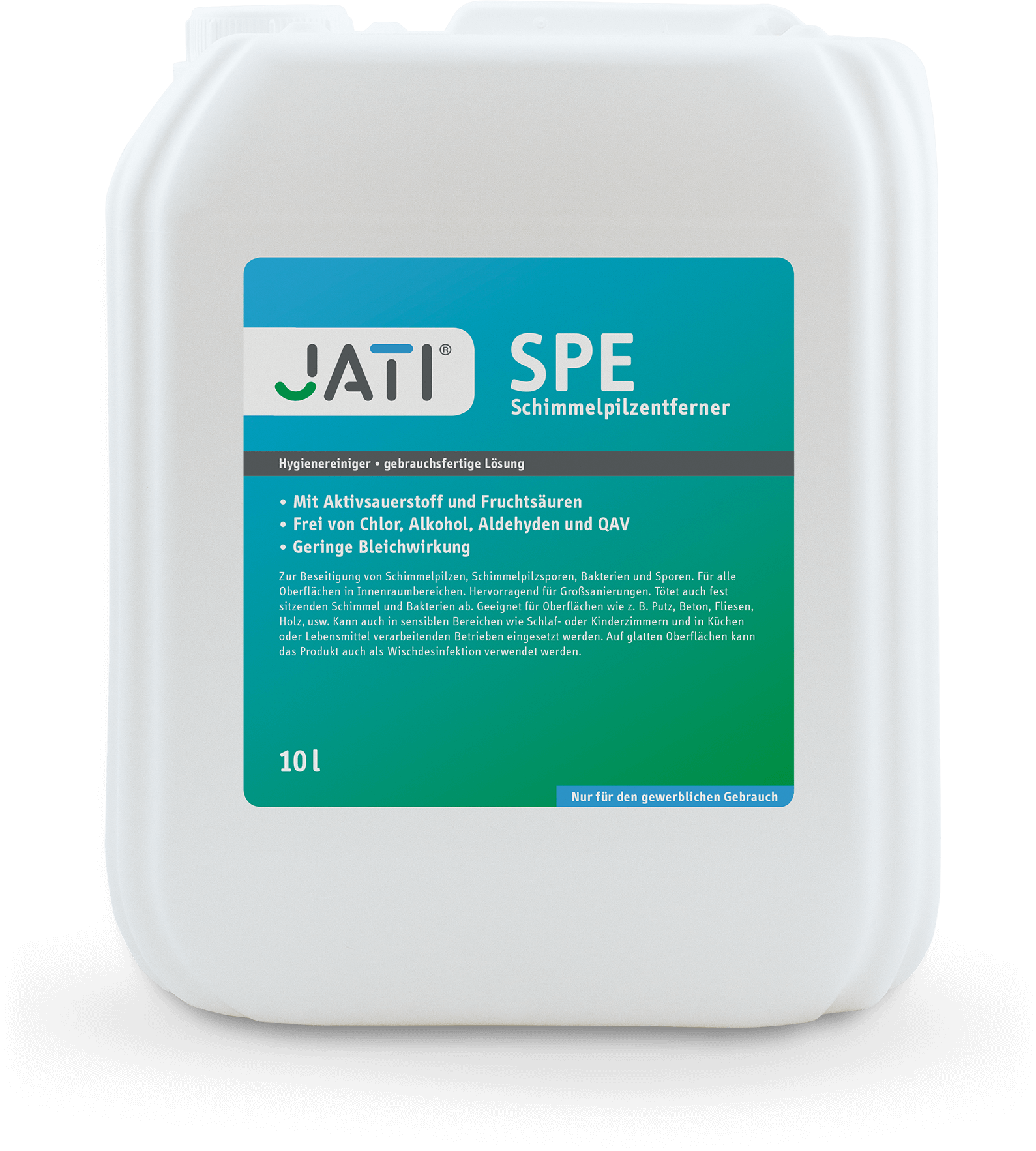 Package sizes:
2,5 / 10 l (canister)
500 ml (bottle)