Accessory – Fogging technology
HURRICANE ULTRA / Cold Fogger
The portable HURRICANE ULTRA is recommended for smaller areas, such as apartments, residential buildings, attics, basements or offices.
The HURRICANE ULTRA is a portable ULV (ultra low-volume) aerosol device, consisting of a blower group, 3 nylon nozzles, a blower and nozzle housing, spray tank, integrated filter and dosing valve.
The HURRICANE ULTRA is suitable for applying JATI SV Spore Destroyer. Neither the fluid nor the air flow is heated when applying the product, hence the name cold fogger. The size of the spray particles is between 5 and 25 µm depending on the flow speed. (Small droplets are produced at a low flow speed and large droplets are produced at a high flow speed.) The tank and the housing of the HURRICANE ULTRA are made of chemically resistant polyethylene. It is driven by an electric motor.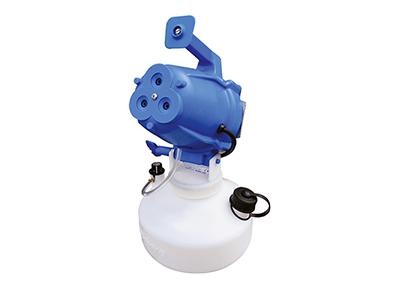 FONTAN COMPACTSTAR / Cold Fogger
For cost-related reasons, the electric, semi-automated, floor-standing FONTAN COMPACTSTAR, which can be used in areas of up to 60 m x 40 m, is recommended for large areas, such as industrial buildings or warehouses (also in food processing establishments) or the attics of larger multi-family residential buildings.
FONTAN COMPACTSTAR is a ULV cold fogger (ULV = Ultra Low Volume) with a blower and stator. Optionally available with active ingredient tanks with a 15 l or 34 l capacity. Weight of the device without the active ingredient tank is approx. 35 kg. Semi-automated spray operation. It is driven by an electric motor.
Maintenance and oil-free low pressure rotary pumps produce a high velocity air flow, which is additionally accelerated by a swirl plate in the nozzle system. This creates a vacuum in the intake tube and delivers the fogging fluid, which is vaporised into a fine aerosol mist at the nozzle head. The devices equipped with blowers and fans transport the aerosol droplets up to 60 m wide and distribute them evenly in the room through vertical and horizontal air circulation. The droplet size is approx. 5-55 µm.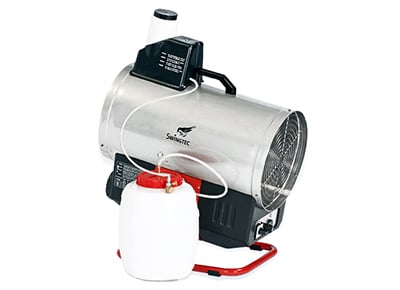 SWINGFOG / Hot Fogger
The SWINGFOG Hot Fogger is suitable for use wherever highly visible and suspensible aerosol mist is needed. The addition of a carrier substance, JATI Fogging Fluid, to JATI SV Spore Destroyer creates a long-lasting suspensible mist, which is suitable for large remediation projects, such as factories, industrial complexes and stables etc. with high ceilings. This mixture that usually consists of 10 parts JATI SV Spore Destroyer and 1 part JATI Fogging Fluid is extremely effective in combating mould spores in the ambient air.
The device is operated with petrol and works in accordance with the SWINGFIRE process. A petrol/air mixture is ignited in the combustion chamber and allows a gas column in the resonator pipe to oscillate between 80 – 110 times per second. At the end of the resonator, the active ingredient (JATI SV Spore Destroyer + JATI Fogging Fluid) is fed into the high velocity air flow being discharged, broken into the finest aerosol droplets and processed into a slightly suspended mist. The system has no mechanically moving parts with the exception of plastic diaphragms and is therefore virtually wear-free. A high-performance fog tube also ensures a good droplet spectrum.