JATI Fogging Fluid
We recommend JATI Fogging Fluid as a carrier substance for JATI SV Spore Destroyer for the targeted treatment of ambient air in the course of mould remediation. These two products form a reliable team wherever highly visible and suspensible aerosol mist is needed.
The addition of JATI Fogging Fluid to JATI SV Spore Destroyer using a hot fogging device creates a long-lasting suspensible mist, which is suitable for large remediation projects, such as factories, industrial complexes and stables with high ceilings.
Application:
Good prospects thanks to fogging.
JATI Fogging Fluid is a carrier substance and lends support during the fogging with a hot fogging device. The homogeneous droplet distribution produces a clearly visible, long-lasting and readily suspensible aerosol mist.
Different mixing ratios must be observed when applying JATI SV Spore Destroyer by means of fogging depending on the device type and ambient temperature. The mixing ratio is between 1:3 and 1:10 (1 part JATI Fogging Fluid with 3 – 10 parts JATI SV Spore Destroyer) depending on the device. It is important to note here that 3 ml of JATI SV Spore Destroyer is always used per cubic metre of ambient air. We recommend having the work performed by a remediation specialist in all cases.
Areas of application:
Fine droplets – a major impact.
Large remediation projects, factories, industrial complexes, stables, rooms with high ceilings
Benefits:
Visible and long-lasting aerosol mist.
The droplet size (5 –30 µm) produces a clearly visible, long-lasting and readily suspensible aerosol mist.
Excellent support from the effectiveness of JATI SV Spore Destroyer.
In combination with JATI SV Spore Destroyer, it significantly reduces the risk of a recurrence of the mould infestation because all mould spores are consistently killed – on surfaces and in the air.
Technical approval
Our products do not require technical approval because they are not regarded as building products. This is also confirmed by the German Institute for Building Technology.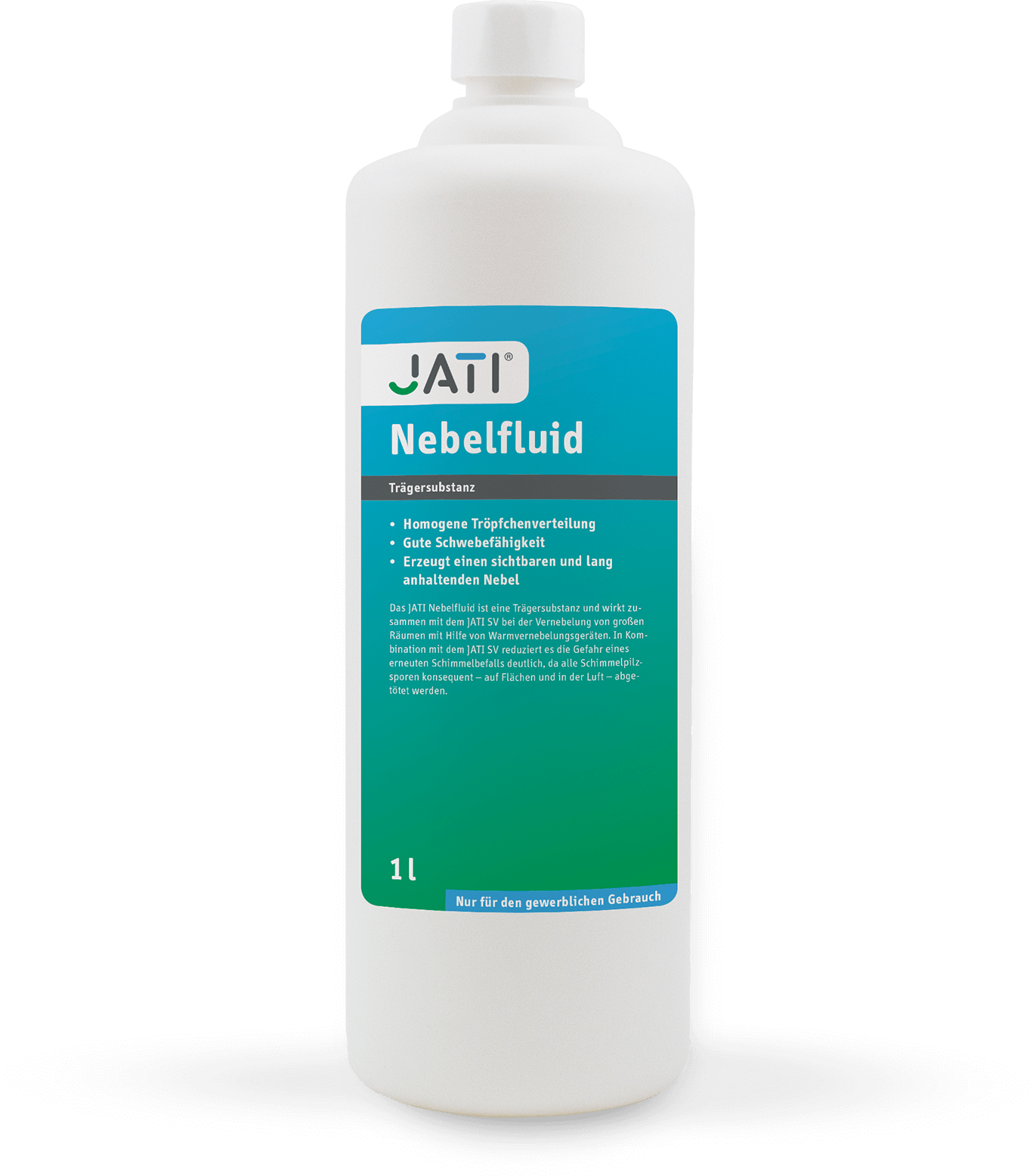 Package sizes:
1 liter (bottle)